Board of Directors Update
August 24, 2020
Quinlan, Texas, 8-25-2020: The Quinlan ISD Education Foundation met for their regularly scheduled board meeting on Monday, August 24, 2020. After serving the Foundation for many years, the Foundation recognized three outgoing board members and accepted their official resignations. Cory and Jenifer Hogan each served on the Foundation Board for nine years and received a plaque in their honor. Dale Chreene had served the Foundation for 14 years as president. He was not able to attend to receive his plaque at this time. We will greatly miss these long-standing board members and wish them luck in their future endeavors.
The Board approved three new members to the Board, including Julie Allen, Raymond Allen, and Deanna Byrd. Julie Allen will become the secretary of the Board. She is going into her 28th year of education in QISD and is currently a reading interventionist leader at A.E. Butler Intermediate School. She is a past recipient of a Foundation grant. We are privileged to have Julie join our board family. Raymond Allen is also a new member of the Board. He has a long-standing history of involvement in QISD as a parent and volunteer for 28 years beside his wife, Julie. They raised their two children in QISD. Raymond brings a wealth of knowledge and insight to the Board and will be instrumental in Foundation efforts to grow and sustain funding for grants for teachers and students each year. Deanna Byrd is the third new member voted to the Board of directors. Deanna has lived in Quinlan for 14 years. Her children have grown-up in the system and are now at Thompson and Ford. She works for the Greenville Chamber of Commerce, and Celebrate Hunt County. She is an instrumental connection in Hunt County, and we are honored to have her serve on the Board. She also accepted a vacant Vice President of Public Relations position.
The remainder of the Board reorganized and was voted and approved.
---
2020-2021 Quinlan ISD Education Foundation Board of Directors
The 2020-2021 Quinlan ISD Education Foundation Board of Directors include:
Rusty Case,President (Rusty also serves as the Vice President of the School Board.)
Stacy Earls, Vice President of Administration
Barbara Norris, Vice President of Programs
Hershey Barnett, Vice President of Development and Fundraising,
VDeanna Byrd, Vice President of Public Relations
Katherine Walla, Treasurer
Julie Allen, Secretary
Board Members: Mike Walla, Michelle Oznick, and Raymond Allen
Congratulations to each of our Foundation Board members. We can not thank each one enough for their continued support and volunteerism to keep the QISD Education Foundation one of the most robust and most viable organizations in the Quinlan community that serves a partner to Quinlan ISD.
Photo at Top: Michelle Oznick, Katherine Walla, Mike Walla, Hershey Barnett, Rusty Case, Barbara Norris, Julie Allen, and Raymond Allen Sitting: Deanna Byrd and Stacy Earls
Accepting a plaque for their nine years of service on the Foundation Board are Jenifer Hogan and Cory Hogan. We will miss them dearly.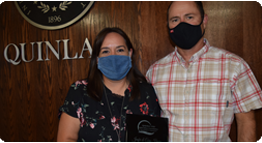 ---
15th Annual Golf Tournament
Monday, November 2, 2020 at 12:00 P.M.
Check-in Starts at 10:30 A.M.
Stone River Golf Club
846 FM 2453, Royse City, Texas 75189
Form Your Teams!!!!
Four Man Scramble
Early Bird Team Entry Fee: $280
Day of Tournament Team Entry Fee: $300
Early Bird Player Fee: $70
Day of Tournament Player Fee: $75
.
Mail to QISD Eduction Foundation
Attn: Tiffony Chapman
401 E, Richmond Ave, Quinlan, TX 7574
or by Credit Card to our PayPal:
quinlaneducationfoundation.com/donations.html
WHY SPONSOR AND/OR PLAY?
By supporting the Quinlan ISO Education Foundation golf tournament, you are helping to support instructional enhancement initiatives for teachers and students with funding for projects and programs that meet the district's needs. However, they are beyond the district's budget. QISD is a property-poor district with approximately 75% of the student population qualifying for federal free and reduced lunch programs.
The mission of the Quinlan ISO Education Foundation, a community-based non-profit organization, is to generate and distribute resources to the Quinlan Independent School District to enrich, expand and maintain programs needed to meet the District's mission of excellence in education.
$1,000 & up-Eagle Sponsors Sign on course, Paid 4-man Team
$500 & up-Birdie Sponsors Sign on course, Paid 2 players
$250 & up-Above Par Sponsors Sign on course, (1) $25 Player Discount
$150 & up-Par Sponsors Sign on course
All sponsors will be recognized in newspapers, social media, and on vvebsite.
Email: Tiffony.Chapman@quinlanisd.net
---